Conference and RAS Awards Dinner
The Conference and RAS Awards Dinner for NAM 2023 will be held in the world-famous Principality Stadium in Cardiff city centre, home to the Welsh Rugby team, on Wednesday the 5th July 2023.
The evening will begin with a welcome drink, followed by the dinner in the Presidents lounge with courses served between the awards ceremony hosted by the RAS. This will include a welcome from the RAS President. The RAS Award winners for 2023 are listed on the RAS webpages.
This event is open to ticket holders only - tickets cost £40 and are available for purchase during registration. As the venue has a limited capacity, we will operate on a first-come first-served basis. Tickets will be included with attendees' badges.
There will also be the possibility of taking a group tour of the Principality Stadium before the start of the Conference and RAS Awards Dinner. Tickets for the tour of the stadium are at an additional cost of £7.80, and need to be pre-booked alongside the dinner booking.
Practical information
The venue for the Dinner is a 15-20 min walk from the Centre for Student Life and the Sir Martin Evans Building (see map here). If you have booked a tour of the stadium, please arrive promptly at 6.30pm. The arrival time for all other delegates is 7pm. Guests will need to enter the venue at Gate 3 on Westgate Street, where stewards will be on the gate for guidance. Food will be served at 7.45pm until 10pm. The venue formally closes at midnight.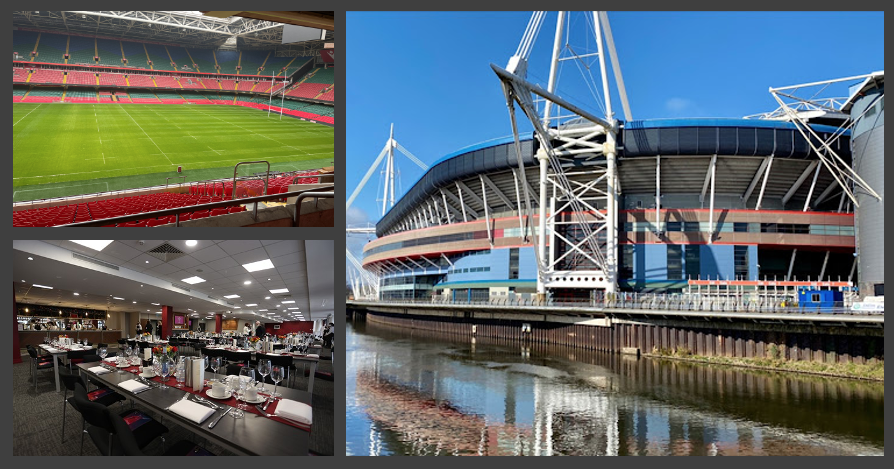 Principality Stadium, Westgate St, Cardiff, CF10 1NS